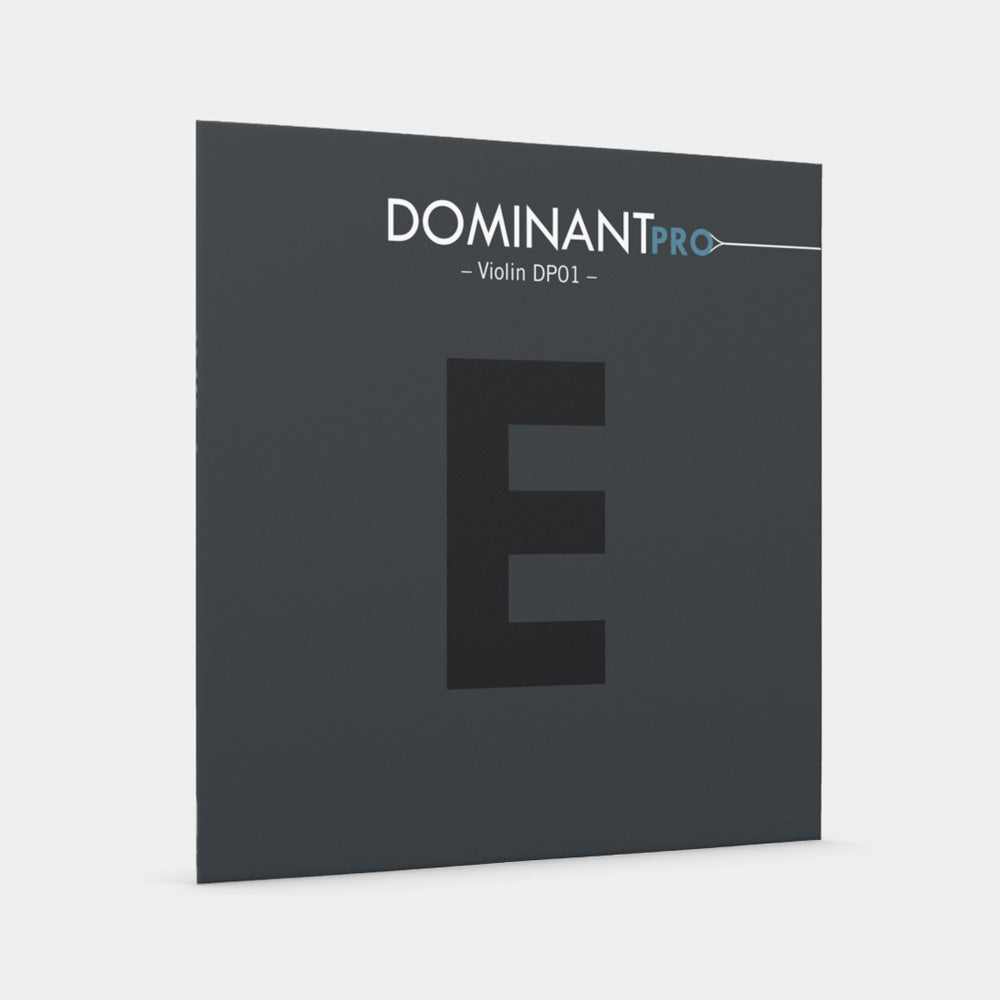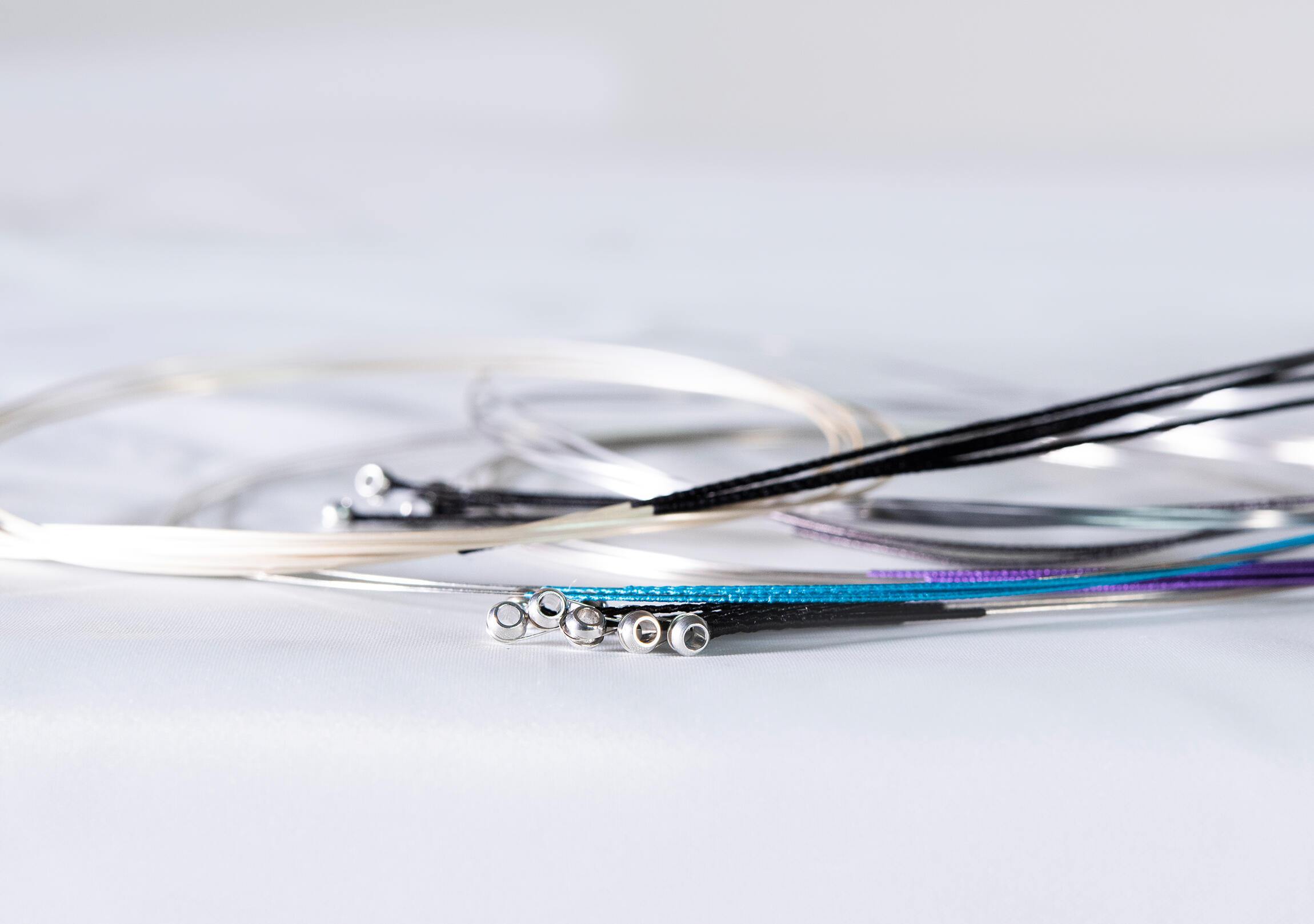 Dominant Pro Violin E string
Product Code: DP01
Sale price

£6.30
Regular price

£7.12
Save £0.82 (12%)
(/)
Click & Collect available at Stringers Edinburgh
Usually ready in 24 hours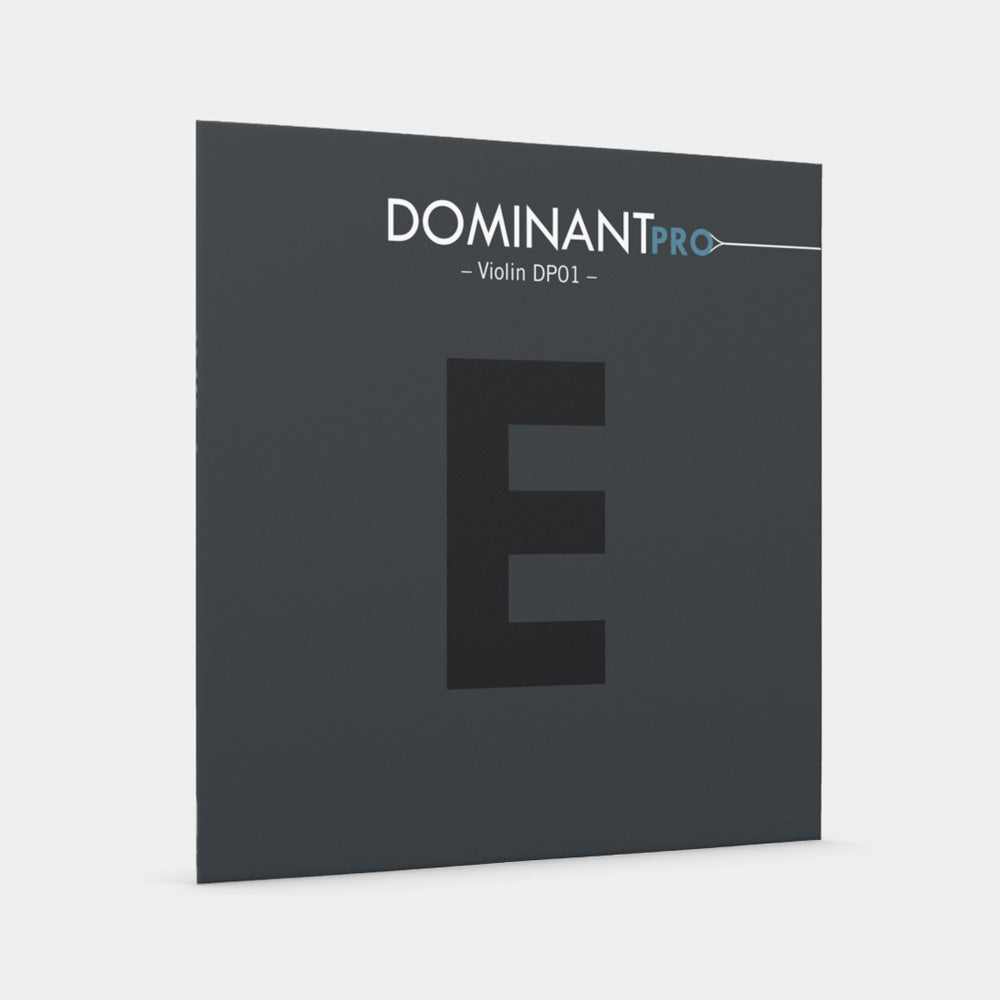 Dominant Pro Violin E string
Tin plated
Stringers Edinburgh
Click & Collect available, usually ready in 24 hours
Dominant Pro follows Thomastik-Infeld's tradition of low-tensioned strings with an honest sound character. Adapted to modern players' demands, it supports a soloistic performance with its high resistance to bow pressure, its enhanced focus and warmth.
The Dominant Pro set DP100 delivers focus, warmth and outstanding projection with a fast response for a modern playing style. It is designed to enhance the character of the iconic Dominant strings with extended natural modulation possibilities and to adapt their traditional concept of low-tensioned strings to modern standards. This improves the instrument's free projection capacity in a sustainable manner.
After stringing, the Dominant Pro impresses with a more bell-like ringing sound. While maintaining a well-balanced and open brilliance, the set quickly develops its distinct warmth and focus.
These strings immediately respond to bow impulses and can handle strong bow pressure at a slower bow speed. This allows players to shape a focused sound within a wide span of dynamics for both a gentle and powerful projection. When choosing Dominant Pro, professionals won't have to compromise when creating rich sound colours at a high volume.
To cover different instruments and playing styles, Dominant Pro offers a wide range of strings. With various E-string options and an alternative D-string and A-string, you can modify the character of the other strings in the regular set DP100.
DP01 | Tin-Plated - Included in Set
The plain DOMINANT PRO® E-string NO.DP01 with a core of carbon steel is tin-plated. A protective layer of nickel is placed between the outer coating of tin and the steel core in order to increase the corrosion resistance compared with conventional tin-plated strings.

The string has a very good response, barely whistles, and is well-balanced in its brilliance and warmth. It supports the equilibrium with the A-string and promotes its capacity to carry sound. A specially developed wire treatment makes the sound soft enough that it does not have a screeching effect, and brilliant enough that it offers sufficient radiance, projection and resistance to bow pressure. Despite its small diameter, the string sounds broad and brilliant even without applying much pressure.
DP01AU | Gold-Plated
This gold-plated E-string generates a very warm, clear sound that simultaneously conveys brilliance. In addition, the string is extremely corrosion-resistant. In contrast to NO.DP01, the sound is as clear as a bell and the individual sound colors can be clearly and individually distinguished. Combined with its great capacity for projection, this allows it to assert itself very well in orchestras or in chamber music as required.

If the system as a whole (instrument, rosin, bow hair and bowing) has a tendency to whistle, NO.DP01AU may not be the ideal choice. In this case we recommend NO.DP01. As always, when using a fine tuner hook, it is crucial to make sure that it is always "deburred" (= the sharp edges are filed down), otherwise the string at the fine tuner end can break more easily than normal tin-plated strings.
DP01PT | Platinum-Plated
Of all DOMINANT PRO® E-strings, NO.DP01PT has the greatest projection capacity. It combines the clarity of the gold-plated NO.DP01AU with the response of the tin-plated NO.DP01. Like NO.DP01AU, NO.DP01PT is also extremely corrosion-resistant, but has less of a tendency to whistle and offers more brilliance in comparison. Due to its outstanding projection capability and clarity, it can be unsuitable for sensitive ears.

As a result of its larger diameter (0.268 mm as opposed to NO.DP01 and NO.DP01AU with 0.265 mm), NO.DP01PT offers more resistance to bow pressure and is also better suited to a very low string action. When using a fine tuner with NO.DP01PT, make sure that the sharp edges are rounded down.
DP01SN | Tin-Plated
In comparison to the other E-strings, NO.DP01SN has a smaller diameter and is therefore ideally suited to instruments with a normal or high string action. In comparison to the standard NO.DP01, NO.DP01SN is not underlaid with nickel and is therefore somewhat more susceptible to corrosion. Thanks to a thicker layer of tin, however, it sounds warmer than NO.DP01 and much warmer than NO.DP01AU and NO.DP01PT.

It also has the lowest string tension of all DOMINANT PRO® E-strings, which means that almost no strain is exerted on the instruments and they can be greatly opened in terms of sound. This leads to a good bow response and also promotes the instrument's radiance. Its low string tension means that it has the lowest resistance to bow pressure of all the DOMINANT PRO® E-strings.

---
~ RUN BY MUSICIANS, FOR MUSICIANS ~

Stringers has been supplying instruments, bows and accessories to students, parents and professional musicians since 1992. We're proud of our commitment to providing the very best service and offering the best quality, carefully chosen products, for our customers.

All Stringers instruments are set up expertly by our luthiers in our Edinburgh workshop and checked by our playing staff. This is a stand-out difference from instruments bought from non-specialist suppliers, and shops who simply import and sell instruments. Our setups really make the world of difference. Just take a look at our reviews to see how.

Feel free to get in touch to ask about any product we offer.

PART-EXCHANGE PROMISE

We offer a part-exchange upgrade pathway for all Stringers brand instruments and outfits bought, with the exception of Standard and Pre-Owned Instruments.

Instruments, bows and cases must be in resaleable condition.

PRICE MATCH GUARANTEE

We'll always try our best to match any cheaper UK online price. Please click on the Price Promise button under Add to Basket, fill in the form, and upon verification we'll send you a discount code to match our competitor's price.

We can only match prices of new items currently in stock with a reputable competitor. Terms & Conditions apply.
What does ball/loop mean?

Some violin E strings and viola A strings come with the option of Loop-end, meaning they are designed for use with hook-type E fittings on tailpieces without a top string fine-tuner. Most student instruments require a ball-end string. Some string manufacturers now product removable ball end strings, and cello strings are all ball-end. Gut strings often have knotted ends.

What is gauge / tension?

Gauge refers to the thickness, or diameter, of the string. The greater the string's diameter, the heavier it is, affecting tone and response to finger pressure and bowing. Tension is the horizontal force on a string between the nut and the tailpiece. Tension is also affected by the types of metals a string is wound with.

Medium tensions are the most popular choice. These strings are designed to bring a balanced response and tone.

Light or weak strings are thinner, so less tension is required to bring them to pitch. If your violin has a naturally heavy or dark sound quality, you might use light gauge strings to brighten the tone.

Heavy or strong strings require greater tension and they are less responsive but can create a more nuanced tone.
Choose options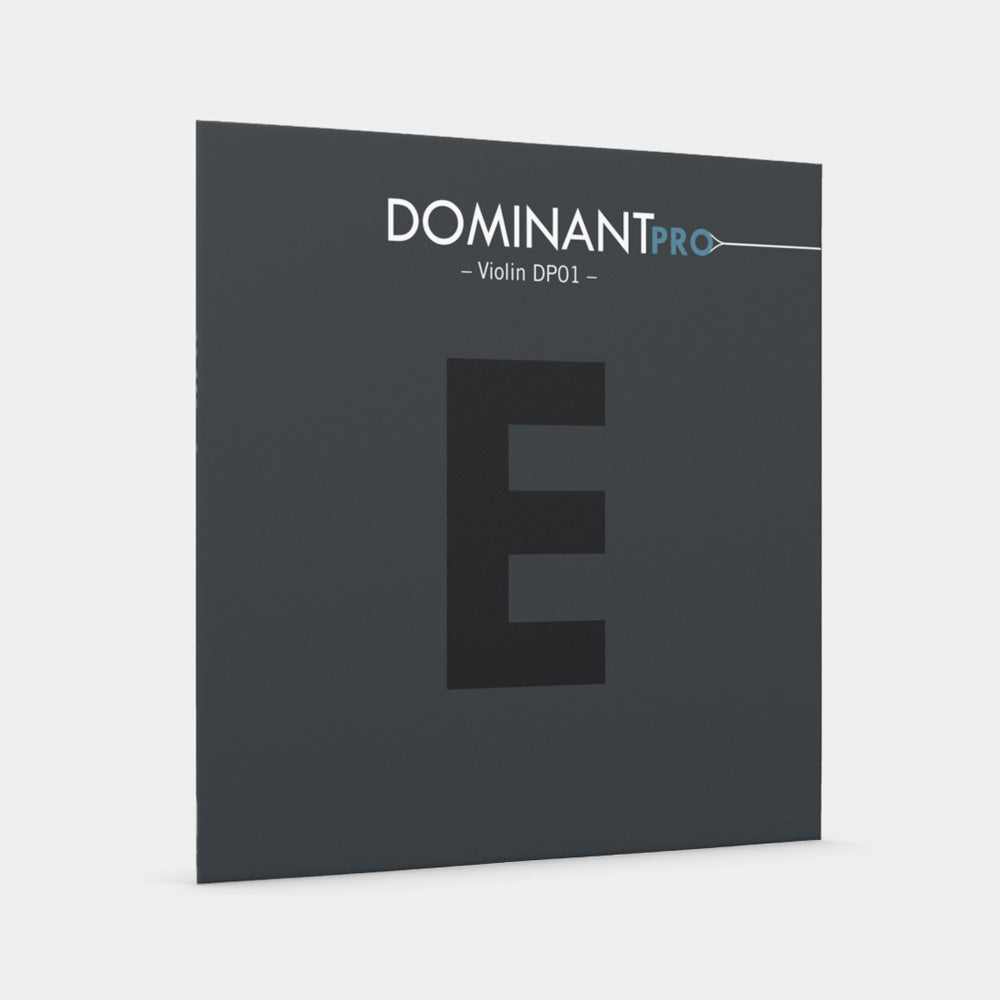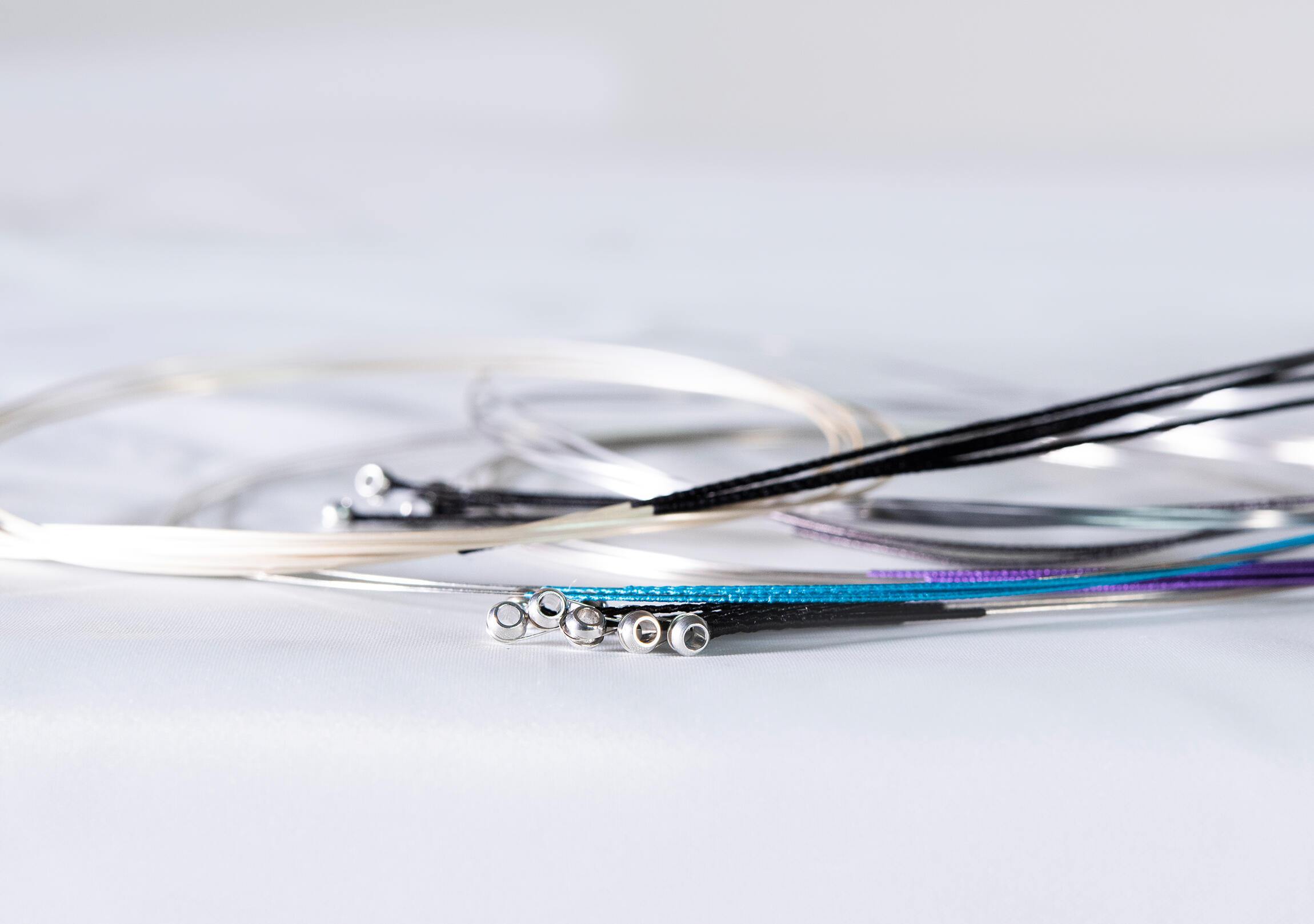 Sale price

£6.30
Regular price

£7.12
Save £0.82 (12%)
(/)
---
View details
Full String Catalogue
Violin Strings
Pirastro Strings for Bass
THOMASTIK STRINGS FOR Bass
D'Addario STRINGS FOR Cello